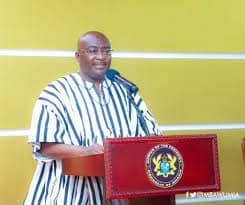 According to the Vice President, Dr. Mahamudu Bawumia, the government is providing resources to all anti-corruption organizations to aid in the battle against corruption.
According to Dr. Bawumia, budgetary allocations for state organizations have recently grown, including such like the Office of the Special Prosecutor, the Commission of Human Rights and Administrative Justice (CHRAJ), and the Ghana Police Service.
Dr. Bawumia asserted that, in contrast to what the opposition has claimed, the administration is committed to combatting corruption while speaking at the 2022 Annual District Auditors Conference in Accra.
The Veep said, "To further boost the fight against corruption, deficits in logistics and personnel of the law enforcement agencies like the Ghana Police Service and other accountability institutions are being addressed, in fact, we have increased them significantly."
The Vice President made this statement in response to CHRAJ's assertion last week that the commission has frequently been rendered powerless to enforce Chapter 24 of the 1992 Constitution, which is concerned with the Code of Conduct for public servants.
Public officials must adhere to oaths, avoid conflicts of interest, and disclose their assets and liabilities upon taking office, according to the Code of Conduct.
The clause is frequently ignored, though, which CHRAJ says encourages corruption in the public sector.
However, CHRAJ is optimistic that this issue would be resolved by the yet-to-be-passed conduct of Public Officers Bill (CoPO).
Joseph Whittal, Commissioner of CHRAJ, expressed his displeasure that the measure is still awaiting Cabinet approval three years after it was created during a speech at a celebration of the 2022 International Anti-Corruption Day.