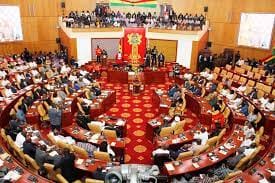 According to the Parliamentary Minority, the GH80 million cedis budgeted to support the National Cathedral project won't be approved along with the budgetary allocation for the Ministry of Tourism.
With only 48 hours left before break, the Tourism Ministry is keen to have their allocation approved, even if it doesn't include the GH80 million for the cathedral that the Trade and Industry Committee last week vetoed.
Armah Kofi Buah, the ranking member on the Trades and Industry Committee, explains why the minority is reluctant to accept the fund by stating that the committee is dissatisfied with the supporting evidence.
"The Ministry of Tourism came and they couldn't give us the answers we needed. In terms of the itemized list of what that GHS₵80 million was for. We sent them back and they brought the cathedral secretariat. Well, we asked them to give us every detail, every sub-contractor, and how those contracts were awarded. They brought us some documents unfortunately after we perused the documents, they could only account for about GH₵225 million," the legislator said .
He stated that there was an unaccounted amount of GH 114 million cedis according to the National Cathedral Secretariat's record on the 225 million cedis.
"We are going to approve the Ministry of Tourism Budget, but we on the Minority will not approve the GH₵80 million, because we are not satisfied with how the GH₵339 million has been expended. We are not clearly convinced how the 80 million cedis will be spent," Kofi Buah opined.
According to the Ellembelle MP, the Minority is not also convinced about the need to allocate $383 million to complete the project.
He added that the Finance Ministry could not also justify the use of the contingency vault.