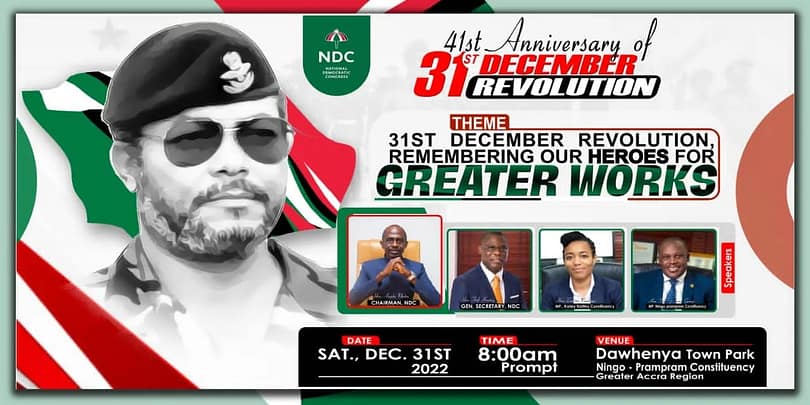 The National Democratic Congress is lazing their boot to commemorate a historic moment in the annals of the party, the 31st December revolution that brought the party to existence.
The program, which falls on Saturday, December 31, 2022, will be held at the Dawhenya town park in the Ningo-Prampram constituency at exactly 8:00 a.m. prompt.
Speakers to grace the occasion are the National Chairman of the Party, Johnson Aseidu Nketsia, the Secretary, Fiifi Kwetey , the MP for the area, Sam Nartey George, and the MP for the K Klorey Kortey constituency, Zenator Agyemang-Rawlings, who is also the daughter of the party's founder.
The theme for this year's celebration is ,"31st December Revolution, Remembering our Heroes of Greater Works."
What is the June 4th revolution
The Supreme Military Council II (SMC II) leadership's detention and subsequent trial of Flt. Lt. Jerry John Rawlings and other junior military officers, who were accused of mutinying after a botched coup attempt on May 15, 1979, served as the catalyst for the June 4 Revolution, also known as the June 4th Uprising.
Several factors contributed to the unsuccessful coup attempt on May 15, 1979, according to Jerry John Rawlings.
First off, Jerry John Rawlings and other junior military officers frequently received salary denials. On a larger scale, the issues of pervasive corruption among SMC officials, bad governance, economic hardship and general civilian resentment, as well as significant levels of indiscipline within the Ghana Army, were also brought up.