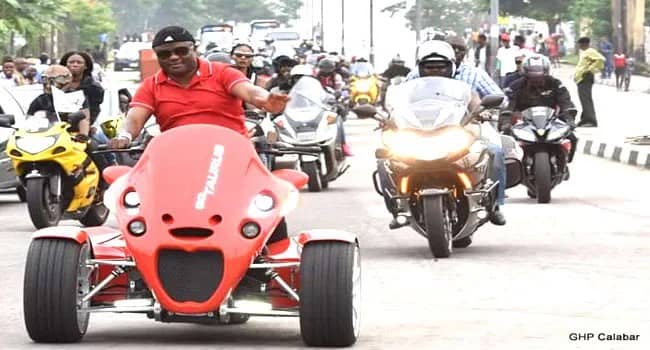 In Calabar, a major carnival city in southern Nigeria, a car crashed into groups of people watching motorcycles, leaving at least 14 people dead and 24 more hurt.
According to witnesses, a speeding driver lost control of the vehicle.
Images posted online soon after the tragedy show bodies scattered all over the street.
Since it began in 2004, the annual carnival, which lasts a month and includes a number of events, has grown in popularity.
The festival, which bills itself as Africa's largest street party, draws both domestic and international visitors all throughout December.
The fact that this year's event was the first since the Covid epidemic, which necessitated its cancellation the previous two years, made it unique.
The incident on Tuesday happened during the well-known bikers' procession on a main carnival route that had been blocked off to traffic.
At the event, riders undertake feats, some of them are national celebrities dressed in vibrant costumes.
According to the police, an intoxicated driver who has since been arrested lost control of their vehicle and rammed into the crowd.
According to the BBC, the automobile was being driven "recklessly" according to the father of a 15-year-old boy who was hurt in the incident.
When the car reached the area where the mob was gathered, he began throwing money on the road while swerving from left to right. The terrible incident occurred as the throng rushed to collect the cash.
Although Abdulsalam Musa Kutama suffered scrapes and scratches on his thigh and face, he lived.
The kid was one among 24 victims who were taken to the University of Calabar Teaching Hospital and the Navy Hospital in Cross River State for medical attention.
We spent last night at the navy hospital, where they treated him and gave us some medication before releasing him. He is currently at home and is in good health, according to Mr. Kutama.
The witness claims that the incident caused chaos as many fled to safety after the Hausa community, whose members were most negatively affected, reacted.
The injured individuals, numbering over 25, have been brought to some hospitals for medical attention as of the time this report was being filled up, while the dead have been removed.
In order to prevent a breakdown in law and order just as the Carnival came to an abrupt end, security forces have cardoned off the Mary Slessor-Bigobiri axis, according to Daily Sun checks.
Professor Ben Ayade, the governor of the state, said in a statement that authorities were looking into how the car managed to get past all of the security barriers blocking entrance for civilian vehicles.
The remainder of the bikers' march was canceled by Prof. Ayade, but other activities scheduled for the remainder of the carnival, which is scheduled to end on New Year's Eve with a fireworks display – will still go ahead.