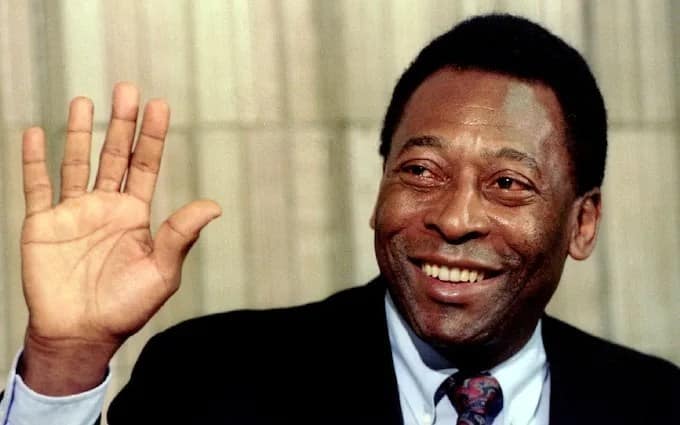 Football legend Pele, 82, died of cancer on Thursday in Sao Paulo, according to a post on Instagram from his daughter.
In September 2021, Pele underwent surgery to remove a colon tumor, and he has since received ongoing care.
With 77 goals in 92 games, Pele is the all-time leading scorer for Brazil. The "Black Pearl," as Pele was known, won three World Cups, one Ballon d'Or, and an astounding 1,283 goals in his career.
At the 1958 World Cup, he made his international debut at the age of 17, scoring six goals overall, including two in the championship match as Brazil captured the title for the first time.
Brazil won the World Cup in 1962 and kept the trophy, but Pele was only able to play in a game and a half each in 1962 and 1966 due to injury. In 1966, his brutal hacking of Portugal's group opponents caused him to leave the tournament on a stretcher, and he vowed never to participate in another World Cup.
Thankfully, he gave in in time for Mexico 1970, and the first World Cup telecast in color lit up television screens all over the world, resplendent in yellow. Brazil won its third championship without losing, entering the competition with maybe its best lineup ever.
Pele scored four goals along the road, and his memorable final pass was a beguiling play that resulted in Carlos Alberto's sweeping finish for the winning goal.
More famously, Pele is credited with three of the greatest misses in history: the lob against Czechoslovakia from inside his own half, the header that earned England goalkeeper Gordon Banks the "save of the century," and the dummy-cum-run-around that fooled Uruguay goalkeeper Ladislao Mazurkiewicz in the semifinals. The great man's shot, however, rolled past the wrong side of the post. Pele gave up playing in 1977.
Pele spoke to the Brazil team before the World Cup started, saying, "we are beginning a new story today. More than 200 million hearts will be pounding in unison, quivering with each success of our "Selecao." We must treat every game with respect and play it if it's the championship. Yes, playing wonderfully is important, but it's also crucial to give your all on the field. I'm sending you guys some images for inspiration. I'm sending you only good vibes right now. We'll have a happy ending, I'm positive. God's blessings on you Bring home this trophy".