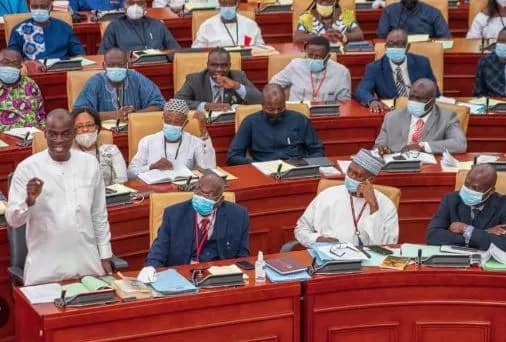 HON HARUNA IDDRISU
Minority Leader, Member of Parliament for Tamale South Constituency, and Leader of the NDC's Group in Parliament
PRESS STATEMENT READ BY THE MINORITY LEADER AND MEMBER OF PARLIAMENT FOR TAMALE SOUTH, HON HARUNA IDDRISU ON THE DEBT EXCHANGE PROGRAMME BY THE NANA ADDO / BAWUMIA GOVERNMENT
Good Morning, Ladies and Gentlemen of the Press,
We are here today to register our profound dissatisfaction with the Nana Addo Bawumia Government Debt Exchange Programme that is threatening the very survival of our financial sector. Today, Ghana is rated alongside Sri Lanka and Lebanon, what an irony! a reflection of the horrendous mismanagement of the economy.
It is no secret that Ghana today is in debt Distress. This has been confirmed by both the finance minister and the International Monetary Fund (IMF).
[Sika nu ᴈni hↄ! [to wit, there is no money].
The Minister of Finance, in the 2023 Budget Statement, presented a gloomy picture of Ghana's debt situation. He said in paragraph 275:
"… our internal Debt Sustainability Analysis (DSA) shows that the public debt position in the medium term is unsustainable and requires immediate redress. The analysis identified a number of risks including cost of funding risks, rollover/refinancing risks, elevation in market risks, contingent liability risks, operational risks, liquidity risks, and legal risks."
The Minister then proceeded to announce a "debt operation programme" in paragraph 276 thus:
"… to sufficiently address these risks and bring the debt stock to sustainable levels, government is embarking on a debt operation programme. The debt operation programme among other measures will address the internal and external imbalances in the economy
Indeed, the Minister only used the phrase "debt exchange programme" once in the 2023 Budget in one of the concluding paragraphs (see paragraph 964) when he indicated that the Government will execute a debt exchange programme. The Minister did not provide any details or parameters for us to appreciate the extent of the proposed debt exchange programme. The information was just scanty.
On 5th December 2022, the finance minister, in announcing the commencement of the debt exchange programme [without engaging necessary stakeholders as promised in paragraph 278 of the 2023 Budget Statement] gave a sad report of Ghana's debt situation:
"The Debt Sustainability Analysis (DSA) demonstrated unequivocally that Ghana's public debt is unsustainable, and that the Government may not be able to fully service its debt down the road if no action is taken. Indeed, debt servicing is now absorbing more than half of total government revenues and almost 70% of tax revenues, while our total public debt stock, including that of state-owned enterprises and all, exceeds 100% of our GDP. This is why we are today announcing the debt exchange, which will help in restoring our capacity to service debt.
So much for a solid Economic Management Team. "We have the men" indeed!
Ladies and Gentlemen, the question is; How did we get here? How did we get to this hapless situation as a sovereign State? How did we get to this pit? Simple. Reckless borrowing! Sadly, the NPP Government led by Nana Addo-Bawumia has not learned any lesson. The NPP was not only reckless in borrowing but it has been reckless in announcing and implementing the Debt Exchange Programme. It is clear that the NPP Government did not properly think through this whole idea of a debt exchange programme. This has led to manifest confusion in the implementation of the ongoing debt exchange programme. Ghanaians will recall that during the Sunday, 30th October 2022 Address to the Nation, the President assured all of us that Government's negotiations with the IMF will not affect individual and institutional investors. The President said:
"I also want to assure all Ghanaians that no individual or institutional investor, including pension funds, in Government treasury bills or instruments will lose their money, as a result of our ongoing IMF negotiations. There will be no "haircuts", so I urge all of you to ignore the false rumours…"
Shortly after the presentation of the 2023 Budget Statement, the finance minister, on 4th and 5th December, 2022 also announced to the whole world that "There will be NO haircut on the principal of bonds" and that "Individual holders of bonds will not be affected."
Talk about the sudden U-turn to include individual bond holders.
It is trite knowledge that a substantial number of moneys in financial institutions come from private individuals. It is, therefore, highly reprehensible for the finance minister to say that financial institutions will be affected by the debt exchange programme but individual bonds holders will not be affected. What kind of warped logic is this?
The failure of the Nana Addo / Bawumai Government to fully engage the relevant stakeholders in the Debt Exchange Programme has led us to this confused state and implementation challenges.
The Debt Exchange Programme is a risk to financial institutions and to insurance companies. Our banks and other financial institutions are still reeling after the infamous financial sector bailout. The Debt Exchange Programme will further exacerbate the already perilous financial sector. The last thing Ghanaians would want is a total collapse of the financial sector by a government that went haywire on a borrowing spree. The future sustainability of our insurance companies cannot be guaranteed under this poorly crafted Debt Exchange Programme. Indeed, the Debt Exchange Programme as proposed and implemented now cannot be in the interest of our financial institutions and insurance companies. It certainly is not in the best interest of Ghanaians.
It is on this score, that we the NDC Minority Group call on the Nana Addo /Bawumia Government to immediately suspend the ongoing Debt Exchange Programme. There should be deeper consultation and greater transparency about Ghana's total debt and its management. The Nana Addo /Bawumia Government cannot continue to manage Ghana's economy like a private entity. Ghanaians deserve to know how much is involved and how long the debt exchange will take. It is not just about people's investment, but it is much more about people's lives and livelihood. The Nana Addo /Bawumia Government should suspend the Debt Exchange Programme now!
STATE OF OUR ECONOMY
An unsustainable public debt on which we have defaulted, a rapidly depreciating currency, hyper inflation and rising interest rates, an excruciating cost of living crisis resulting in considerable harsher economic conditions which has led to mass suffering of Ghanaians, are but a few of the symptoms of the economic collapse supervised by Alhaji Dr Mahamud /Bawumia and his Economic Management Team.
During the 2020 election year in particular, the Akufo-Addo/Bawumia government consigned fiscal discipline to the dustbin and resorted to high-expenditure, populist and misguided programs which contributed immensely to the accumulation of Ghana's current unsustainable Public Debt.
The inevitable but dire consequence of this reckless and irresponsible behavior was soon to manifest after the elections.
Even when it became abundantly clear, that an IMF program was the surest way to halt the decline of the Ghanaian economy and restore badly needed investor confidence, Alhaji Bawumia and his EMT refused to budge, preferring instead to sell a dubious narrative that they had capacity to resolve the challenges without external intervention.
They were, however, compelled In July 2022, to change their intransigent position this tune and applied to the IMF for a financial "bailout" of US$ 3 billion.
A Debt Sustainability Analysis (DSA) conducted by the IMF revealed and confirmed the Minority's earlier position, obvious, that Ghana's debt was unsustainable and as a prerequisite for granting Ghana's request, we were required to bring our total Public Debt to a sustainable level of 55% of GDP.
It is in a bid to meet this IMF conditionality that this government has embarked on a Debt Restructuring Program dubbed a Debt Exchange Program to bring our debt obligations to sustainable levels.
Stripped of the fancy jargon, this means that both domestic and external bondholders will not be receiving interest and principal payments due them from the government in the agreed amounts and within the agreed timeframe.
This is cynically referred to as "haircuts" and will be especially catastrophic for domestic bondholders who primarily consist of banks, pension schemes, other financial institutions, and individuals.
By June 2022, Ghana's Total Public Debt had ballooned from GHS 120.4 billion in 2016 (55.9% of GDP) to GHS 467.4 billion (78.3% of GDP) and this is projected to rise to 104% of GDP at end- 2022 when contingent liabilities of State-Owned Enterprises are included.
The international capital market which had been available to the Ghana Government to sell Eurobonds lost faith in our ability to service loans and shut us out.
Even so, there was sufficient time and opportunity to avert an economic collapse in 2021 by taking advantage of some debt relief initiatives tabled by some multilateral and bilateral partners to reduce our debt.
Among these was the Debt Service Suspension Initiative (DSSI) which would have resulted in the lowering of the amount of revenue we pumped into debt service.
Beyond that, was the Common Framework for Debt Treatment proposed by the G20 countries which would also, have led to significant debt write-off.
But characteristic of this administration, they chose the naïve and reckless path of borrowing to resolve the problem.
MAJOR ISSUES WITH DOMESTIC DEBT EXCHANGE PROGRAM
Implications on entire financial / banking Sector. Ghana's financial sector will be severely and adversely impacted by the Domestic Debt Exchange Program. With over GHS 60 billion locked up in government bonds, the non-receipt of any interest this year and paltry sums in subsequent years, will prove the undoing of some banks. In the case of some state-owned banks, as much as 70% of their annual revenue comes from their investments in government bonds. Not paying them any interest in 2023 would effectively sound the death knell to these banks with its attendant consequences on depositors and employees who would have to be laid off. Restructuring domestic debts will undermine the health of the banking system since Capital Adequacy will become a challenge
Effects on Pension funds- Pension funds will suffer a significant drop in value especially, Tier 2 and 3 pension payouts will drop further from their already low levels. Tier 1 (SSNIT) reserves will drop in value and SSNIT's capacity to pay will suffer. Reserves of Insurance companies will fall with implications for benefit payments
Effects on individual bondholders– the inclusion of individual bondholders in the Domestic Debt Exchange, contrary to initial assurances from both the President and his finance minister, would all but wipe out Ghana's middle class and impose harsh suffering on them, their families, and dependents. We now know that the reality is different. What Minister Ofori-Atta announced is different from what is being implemented. Ghanaian individuals have started receiving text messages from their banks. Yesterday, about 1.3 million affected individual bold holders petitioned Parliament for a reversal of the Government's Debt Exchange Programme. This must be the largest and voluminous petition on a single matter ever presented to Parliament in our country's history. It is inconceivable to accept that individual bonds will be affected.
From the outset, there have been clear inconsistencies in pronouncements and the actual implementation. The haircut is real. The NPP Nana Addo /Bawumia Government should give us a break! The Nana Addo /Bawumia Government cannot borrow Ghana into a ditch and further drive us into a bottomless pit.
RECOMMENDATIONS
It is obvious that the Domestic Debt Exchange Program will create extreme hardships for millions of Ghanaians and existing financial institutions. It is also quite clear, that it was entirely avoidable had the Akufo-Addo/Bawumia government heeded wise counsel from the opposition and Civil Society on prudent management of our finances and economy.
It is obvious that the Akufo-Addo/Bawumia is transferring the responsibility to address the debt burden it has created through reckless borrowing and populist fiscal policies to only innocent Ghanaians and the financial sector. For instance, the 2023 budget projects a primary surplus of only 1% which means that we will be reducing the public debt by only 1% of GDP this year. This also means that not enough expenditure cuts are being made by government at a time when it is almost forcibly asking bondholders to forfeit interests and principal payment due them. We demand further demonstration of responsibility from government through more substantial cuts in non-essential expenditure and a reduction in the humongous size of government.
We are at a loss as to why individual pension contributors have not been offered the same exemptions that Tier 1 and 2 contributors have been given. This anomaly must immediately be rectified.
The inclusion of individual bondholders in the DDE is the biggest transfer of funds from the pockets of Ghanaians to the government and will leave affected persons, mainly the middle class, impoverished while worsening the plight of the poor. This must immediately be stopped.
The Akufo-Addo/Bawumia government is simply imposing an almost 80% tax in present value terms on the savings of Ghanaians and our bank balances without any consultations with affected individuals
They are also imposing about 80% tax in present value terms on bank capital and deposits.
In view of the above,
WE CALL ON THE GOVERNMENT TO IMMEDIATELY SUSPEND THE DOMESTIC DEBT EXCHANGE PROGRAM AND ENGAGE IN MORE COMPREHENSIVE CONSULTATION ON THE MATTER WITH ALL STAKEHOLDERS AND THE GHANAIAN PEOPLE.
WE CALL ON ALL STATKEHOLDERS FOR A NATIONAL DIALOGUE ON THE STATE OF OUR ECONOMY AND DEBT EXCHAGE PRGRAMME WITH THE VIEW TO ACHIEVING THE MOST WORKABLE AND LEAST PUNITIVE STEPS THAT PROTECT GHANAIANS AND HOUSEHOLDS FROM THE DISASTROUS EFFECTS OF THE DOMESTIC DEBT EXCHANGE PROGRAM AS CURRENTLY DESIGNED.
WE WISH TO TAKE THIS OPPORTUNITY TO INDICATE OUR INTENTION TO EMBARK ON NATIONWIDE ROAD SHOWS TO FOSTER DEEPER UNDERSTANDING OF THIS MATTER AND RALLY GHANAIANS TO DEMAND A MORE FAVOURABLE RESOLUTION OF THE UNPRECEDENTED ECONOMIC CRISIS THE BAWUMIA-LED ECONOMIC MANAGEMENT TEAM HAS PLUNGED US INTO.
Long Live the Republic!
Hon Haruna IDDRISU
Minority Leader &
MP, Tamale South