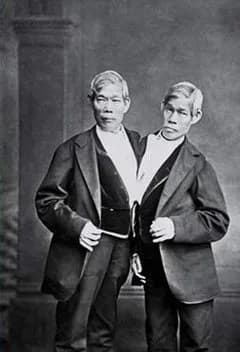 On May 11, 1811, Chang and Eng Bunker were born in Siam.
Conjoined twins from Siam and America, Chang and Eng
Due to their popularity, conjoined twins in general are now referred to as "Siamese Twins."
They were "two of the nineteenth century's most researched human people" and were frequently shown as wonders. Born of a half-Chinese mother and a Chinese father, Chang and Eng are connected at the waist by a tubular band of tissue that is 3.25 inches long and 1.5 inches wide.
According to reports, their mother said that their birth was no more difficult than the births of their other siblings.
Ti-eye, their father, was a fisherman who passed away while the twins were young—possibly as a result of the smallpox outbreak that swept the region in 1819. Unknown are the exact specifics of their early existence.
Foreign Trips

When Chang and Eng visited the US, they were both 17 years old.
On August 16, 1829, they arrived in Boston.
They were soon examined by numerous doctors.
Newspapers enthusiastically reported on their arrival while using varied degrees of racial stereotypes and fabrications.
They traveled through major British cities after leaving the United States, and by the time they arrived back in New York in March 1831, the twins had developed some proficiency in reading, writing, and speaking English.
The twins resided in hotels while touring towns, where they charged visitors to see their "freak show."
Their manager would send fliers in advance of their visit to small towns, and they would only spend one or two nights at a lodge or inn.
The twins exercised their bodies by sprinting and flipping around.
They had pigtails and were clothed in "Oriental" attire, which emphasized their exoticism.
They occasionally performed parlor tricks, played checkers, and went swimming.
Marriage Life

Sisters Adelaide and Sarah Yates, the daughters of a reputable local landowner, wed Chang and Eng in 1843.
The brothers had grown to know the girls over a number of years, frequently dropping by after they returned from business trips and befriending the entire family, despite the fact that the girls had a "fair share of suitors."
The brothers alternated half weeks with each of their wives while the two spouses, who were undoubtedly two separate couples, lived in separate residences. In 1844, each woman gave birth.
Although no information about the couples' intimate relationships has survived, it is important to note that the brothers' first children were born six days apart, and a later pair eight days apart. Between them, they would go on to have an incredible 21 kids.
In Barnum's American Museum

They agreed to work with renowned showman P.T. Barnum for a month and displayed in Barnum's American Museum at the beginning of October 1860.
They performed for several distinguished guests, including The Prince of Wales.
By the time the Civil War ended in 1865, the twins' finances had taken a hit, so they decided to resume touring.
Chang and Eng made a trip to Britain in 1868–69, seeing physicians and chatting in exhibitions; their last visit there had been over 30 years before.
Chang's daughter Nannie, who had never before been far from home, and Eng's daughter Kate, both in their 20s, also came on the trip.
Their Death
In 1870, Chang suffered a stroke that paralyzed his right side, the side that was closest to his brother.
Eng cared for him while Chang carried out his daily activities while Chang's right leg was strapped in a sling and supported by his brother's arm and a crutch.
But he never really recovered, got a terrible cough, and started drinking. One of Eng's sons checked on the sleeping twins early on January 17, 1874.
The youngster reportedly said to Eng, "Uncle Chang is dead.
So I am going too," to which Eng replied.
He was in excruciating discomfort for the next hour, his body covered in cold perspiration.
He only took notice of his deceased twin long enough to bring his body close to him.
Two-and-a-half hours after losing his brother, Eng Bunker died. They were 62 years old.
Image and story credit: Wikipedia
.