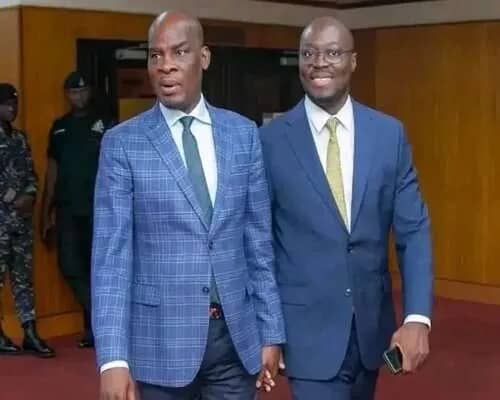 The National Executive Council (NEC) of the National Democratic Congress is coming under increasing pressure to change its decision to reorganize the NDC caucus in Parliament.
Two NDC-nominated MPs have publicly criticized the NEC's decision and called for the immediate reinstatement of Haruna Iddrisu and Muntaka Mubarak in their respective roles as minority leader and minority chief whip.
The first MP to express outrage over the NEC decision was Ibrahim Murtala Muhammad, the member of parliament for Tamale Central.
Murtala Muhammaed expressed optimism that the ruling would be overturned and that Haruna Iddrisu and Muntaka Mubarak would regain their positions on Asempa FM.


He claims that the caucus wants the Haruna Iddrisu and Muntaka reinstalled since they are satisfied with their performance.
"The timing is completely wrong. What is the basis for changing our parliamentary leadership?

"They are only taking away the most experienced leaders and bringing the less experienced ones. Nobody told them we are dissatisfied with the leadership. Who told them we are unhappy with their performance," he said.

Zebilla East Constituency Member of Parliament Cletus Avoka questioned the timing and justification of the decision.

"Our focus should be a collective effort against the NPP for the next two years. Now you are going to have low morale in Parliament. The new leadership will now have to learn to ride leadership both in Parliament and the outside world and that will require time. That will retard the progress of the NDC in its bid to regain power from the NPP in 2024.

"This is unstrategic and didn't have to come out at this time. We need the effort of everybody to fight for the 2024 elections. The timing was not the best. I will recommend that the NEC will withdraw the letter and reinstate them and also want the new leadership to step down in the interest of the caucus."

Abdul Rauf, the National Democratic Congress (NDC) constituency chairman for Tamale South, also disagreed with the NEC's decision and demanded that the Haruna Iddrisu be immediately reinstated.

"We would not accept this decision. Asiedu Nketiah is responsible for this. Asiedu Nketiah, I want to remind you today, when you became the general secretary, you did not have a pesewa to give to anybody but we gave the chairmanship to you.

"Now you are a big man, you want to punish people. What nonsense. If you are the national chairman and so what. Asiedu Nketiah, I want to tell you, I am the constituency chairman, I don't care about you or Fifi Kwetey," he said.

According to Joy News, the National Executive Council of the party will meet with the minority caucus in the upcoming days to resolve any difficulties that have arisen as a result of the change.

Source: ghanaweb.com