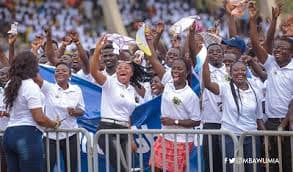 The Aggrieved Nations Builders Corps (NaBCo) Trainees Association wants Special Prosecutor (SP) Kissi Agyebeng's intervention to enable them to claim their nine-month arrears from the government.
"The leadership of the aggrieved NaBCo Trainees Association (ANTA) petition your good self as a Special Prosecutor, as a matter of urgency, to respond swiftly and appropriately to demands concerning our nine (9) months unpaid stipends since November 2021 and other outstanding arrears since the year 2019," the association stated in a petition to the Special Prosecutor, co-signed by its Convenor, David Peterson, and two other members, Dose Daniel Kojo and Rowlan Jemhi.
"We have in the past taken a number of steps to make headway regarding the payments of our arrears in question such as writing to NABCo Secretariat and organising several demonstrations, all to no avail," the aggrieved trainees reminded the Special Prosecutor.
The association, therefore, appealed to the SP "as a matter of urgency to order the Minister of Finance and Economic Planning, to allocate funds for the payment" of their nine months' stipends in arrears and "other outstanding arrears that have engulfed the NaBCO scheme since the year 2019 before Tuesday, 31 January 2023."
Recently, beneficiaries of NaBCo reminded the government about their eight-month arrears.
"This is the umpteenth time we are reminding the government that beneficiaries of NaBCo are still owed eight (8) months of their stipends," a statement signed by the National President NABTAG, Dennis Opoku Katakyie on Monday, 16 January 2023 noted.
It further noted that the "current payment that was made to cover December 2021, still has some validated trainees not receiving theirs coupled with reposted GRA trainees also being unattended to."
"We will be forced to stage our next massive picketing at the Ministry of Finance to demand all arrears if the government fails to pay us as soon as possible," the statement continued.
It added: "We're suffering, pay our remaining eight (8) months arrears!"
As part of measures to address graduate unemployment in the country, the Akufo-Addo government introduced the programme in 2017.
The initiative was run under seven modules: Educate Ghana, Heal Ghana, Feed Ghana, Revenue Ghana, Digitize Ghana, Enterprise Ghana, and Civic Ghana.
It came to an end after three years.