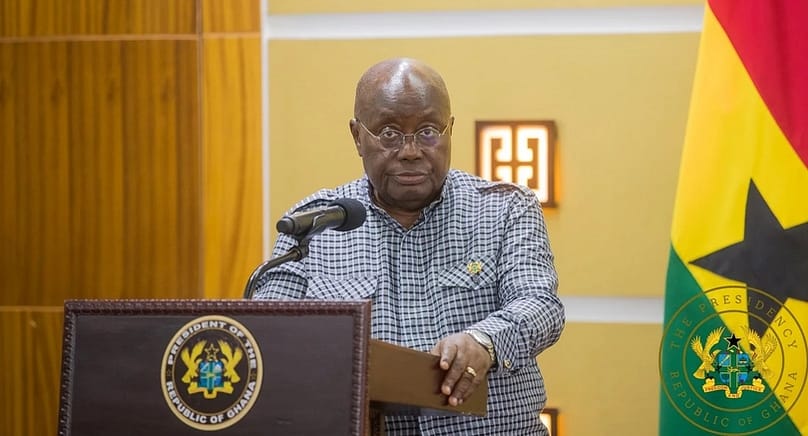 The importance of the judiciary to Ghana's democratic development has been emphasized once more by President Nana Addo Dankwa Akufo-Addo.
A strong, independent, and impartial court, according to Nana Akufo-Addo, will aid Ghana in overcoming many of its difficulties.
At the Jubilee House on Tuesday, Nana Akufo-Addo said dedication and thoroughness should be the standard for the swearing-in of about 21 High Court Judges.
"It is therefore critical for the growth of our nation and the High Court commands the respect of our people by the quality of decisions and comportment of the judges. So to you, the newly sworn-in justices, I say to you that you must be honest, possess integrity, and have a sound understanding of the law. A corrupt or incompetent judge is a danger to the public interest and judicial administration."
The president swore the new Justices of the High Court of Judicature to allegiance, confidentiality, and the judicial oath at the banquet hall of Jubilee House.
Kwame Polley, Baah Forson Agyapong, Marian Affoh, Nana Brew, Abena Anponsah Buansi, Ellen Lordina Serwaa Mirehu, Priscilla Dapaah Mireku, Alexander Oworae, Joyce Boahen, Edward Twum, and Gwendolyn Millicent Owusu are a few of the new justices.
The remaining justices are Marie-Louise Simmons, Frederick Kwabena Twumasi, Adedaide Abui Keddey, Harry Aheampong- Opoku, Kenneth Edem Kudjordjie, John-Mark Nuku Alifo, Kwesi Adjenim-Boateng, and Rosemary Baah Tosu.
The 21 new high court justices will bring the total number of high court judges to 127 following their swearing-in.
Credit: Citinewsroom