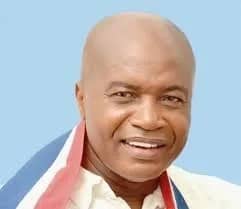 In order to salvage the economy, the ruling New Patriotic Party (NPP) is pleading with Ghanaians to embrace the Domestic Debt Exchange Programme (DDEP).
The party asserts that the government will be able to attain macroeconomic stability if the DDEP is successful.
Due to some technical issues, the Finance Ministry has extended the administrative window for individuals and institutions to sign up for the program through Friday, February 10, 2023.
Government should be supported, according to Richard Ahiagbah, Director of Communications for the NPP, during a news conference in Accra.
"The government has acknowledged the difficulties of this inevitable debt operation necessary to bring our debts to sustainable levels. This acknowledgment by the government is reflected in its willingness to engage and accommodate the proposals that have come from the various stakeholders. In addition, the government's target of addressing fiscal consolidation and enhanced revenue generation measures and ensure that the economy stabilizes quickly."
Minister's Remarks on DDEP
According to deputy finance minister Abena Osei Asare, the government has reached around 50% of its desired target for bondholder participation in the Domestic Debt Exchange Program (DDEP), which was set at 80%.
"When we decided to extend and grant that administrative window, we had done above 50 percent," Osei Asare told host Bernard Avle on the Citi Breakfast Show on Wednesday, February 8.
The administration is hoping that more bondholders who were unable to submit their paperwork will do so by the revised deadline, the deputy finance minister continued.
In the contentious domestic debt exchange programme, the government on Tuesday extended the deadline for bondholders to finish the tender procedure.
On Tuesday, February 7, 2023, the application deadline for the program expired, but the government said in a late-night press release that some bondholders encountered "technical glitches as they tried to complete the online tender process," necessitating the extension of the deadline to allow these people to finish the process.
Therefore, it has given those people three days to complete that.
The government must complete the program, the deputy finance minister continued, in order to wrap up negotiations with the International Monetary Fund (IMF) in March for the desperately needed bailout.
The Business Committee of the House has been instructed by Speaker of the House Alban Bagbin to call Finance Minister Ken Ofori-Atta for a briefing on the government's domestic debt exchange program.
Following the picketing of retirees at the Finance Ministry to demand exemption from the exercise, the Minority expressed concerns and demanded policy specifics on the program.
Credit: Citinewsroom