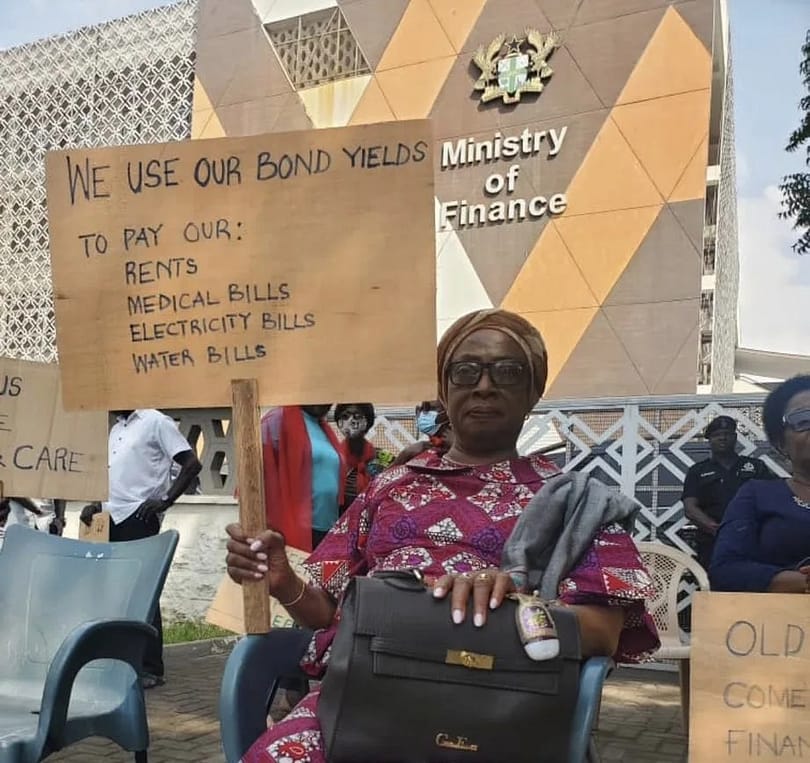 A picket at the Finance Ministry was joined by a former Chief Justice, Sophia Akuffo, on Friday, February 10.
Members of the Pensioner Bondholders Forum are picketing outside the Finance Ministry for the seventh time in a row to demand that their investments be completely exempt from the Domestic Debt Exchange Scheme.
A group of roughly 50 pensioners including the former Chief Justice Sophia Akuffo, claims they would not accept any haircuts on their investments because the profits from these investments are essential to their means of subsistence. The government has recommended a 15% coupon rate.
According to a pensioner bondholder, "the only term we understand now is a total exemption. They exempted pension funds so we the retirees will return to picket again."
"I will come and sleep here because the investments I made are what I used to pay for my drugs", another added.
Today, February 10, 2023, is the last day of the government's extra time for bondholders to finish the tender procedures associated with the contentious Domestic Debt Exchange Programme (DDEP).
The deadline was extended from February 7 to provide bondholders who encountered technical difficulties more time to complete the online procedures for tendering their bonds.
Following the opening of a three-day administrative window, the Ministry of Finance claims it is getting the necessary response from various parties and individuals.
Credit: Citinewsroom