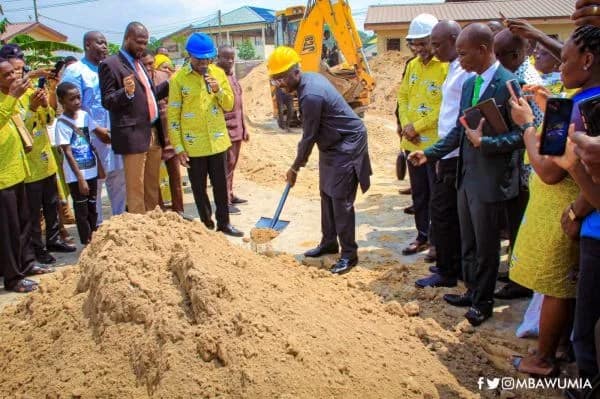 On February 12, 2023, Vice President Dr. Mahamudu Bawumia officially cut sod for the Liberty Assemblies of God Hospital in Akweteyman, Accra.
In honor of the Liberty Assemblies of God Church's 50th anniversary, a 50-bed community hospital is being built.
Vice President Dr. Bawumia congratulated the congregation on its 50th anniversary and also expressed joy at joining them for the groundbreaking ceremony, which he described as "a manifestation of the goodness of God." He also provided financial support and 500 bags of cement to the church to begin the construction of the hospital.

"It is really a pleasure and a privilege to be here," Dr. Bawumia said.

"Liberty Assemblies of God Church is 50 years old this year, and I was very privileged to be with you on that day when we celebrated the 50th anniversary. And the theme was: 'declaring the goodness of God."

"This (sod cutting) is a manifestation of that theme. We are here today because we are seeing the goodness of God."

"The church, to thank God for 50 years, has decided to construct a 50-bed hospital for the community of Akweteyman," he added.

After giving the church his support, Dr. Bawumia reaffirmed his dedication to the undertaking.

"I am so happy and so honoured to be part of it and I want to assure Reverend that I will be keeping a close eye and participating in the construction of this beautiful edifice," he said.

"We want to see the completion in two years by the grace of God, so I am one of you as we are going through this project, and we will see, by the grace of God, to its completion."

"I just want to thank all of you, Reverend in particular, for making me a part and an honorary member of Liberty, of which I'm very proud. May God bless this building, and may God bless all the people who are going to be working."




The Vice President's thoughtful act and dedication to seeing the project through were acknowledged by the Church.

"First of all, we wish to thank you for honouring our invitation to attend our 50th Anniversary in this local church. We also appreciate the fact that you made a giant contribution into the project we intended to undertake", the Head Pastor stated.

"Mr. Vice President, thereafter, your 500 bags of cement was received and we are grateful again. At the last visit to your home when we made you aware the project was going to begin, you duly requested that you'll love to be part of the sod cutting. I was personally elated to hear that and I am happy to know that you have a keen interest in the project we are undertaking. We appreciate this", the Head Pastor added.
Source: Peacefmonline.com/Ghana