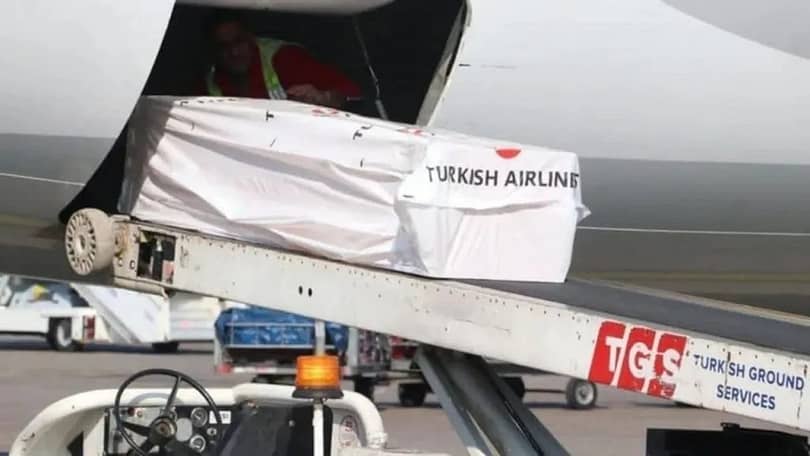 According to the Ministry of Foreign Affairs and Regional Integration, Christian Atsu, a Ghanaian international football player, would have his mortal remains sent to Accra on Sunday night.
This goes contrary to several media accounts that claimed there was no representative at the airport to receive the remains when they arrived on Saturday night.
The government was making preparations to receive the mortal remains of the late Christian Atsu, a former Black Stars player, according to a statement released by the Ministry of Foreign Affairs and Regional Integration on Sunday morning.

"The remains will be accompanied by his family and Ghana's Ambassador to Türkiye on a Turkish airlines flight and will arrive in Accra at 7:40 p.m. today Sunday, 19 February, 2023," it said.

"The remains will be received at the Kotoka International Airport by the family, the Ghana Football Association (GFA), and the Government upon its arrival from Istanbul, Türkiye," it added.

"Our thoughts and prayers are with the bereaved family, and we pray for the eternal repose of the soul of Christian Atsu."


After the catastrophic earthquake that struck Türkiye on Saturday morning, Christian Atsu's lifeless body was discovered beneath the debris.
Christian Atsu, a forward for the Black Stars and a former player for Chelsea and Newcastle United, was discovered dead on Saturday after going missing for several days following the earthquakes in Turkey.
One of the top players from the Chelsea academy before moving to Turkey was Atsu, who played for Hatayspor before tragically passing away.
The 31-year-old was residing in a Hatay city apartment that sustained significant damage as a result of the earthquake.
The manager of Christian Atsu, Nana Sechere, who had traveled to Turkey and was sending updates throughout the week to confirm the body had been discovered, tweeted:

"It is with the heaviest of hearts that I have to announce to all well-wishers that sadly Christian Atsu's body was recovered this morning

My deepest condolences go to his family and loved ones. I would like to take this opportunity to thank everyone for their prayers and support"

"I ask that whilst we make the necessary arrangements, that everyone would please respect the privacy of the family during this very difficult time."

Christian Atsu's twin sister and elder brother were present at the site when his body was recovered Saturday morning, the Ministry of Foreign Affairs and Regional Integration in Ghana has said.
Source: graphic.com.gh