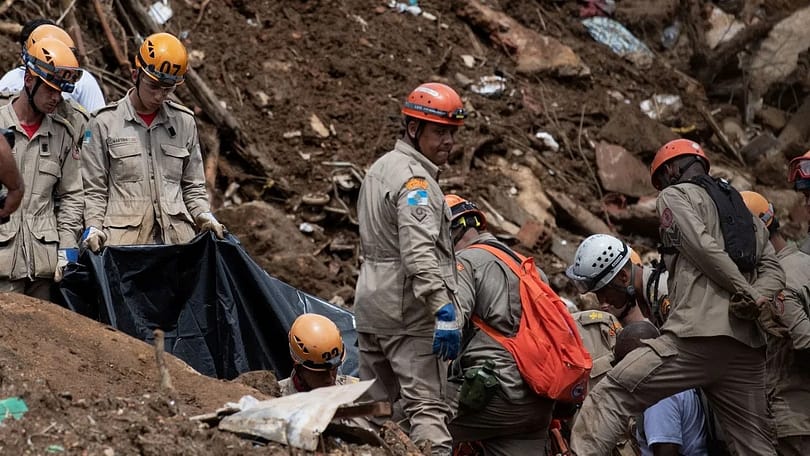 Authorities in the Brazilian state of São Paulo say at least 36 people have been killed in heavy flooding and landslides, forcing some cities to cancel annual Carnival celebrations.
Footage displayed submerged neighbourhoods, flooded highways, and debris left behind as houses were swept away.
Rescue workers have had difficulty getting to survivors and clearing traffic.
On Sunday, some places received more rain than 600 mm (23.6 inches), which is twice the monthly average.
"Search and rescue teams are not managing to get to several places; it is a chaotic situation," said Felipe Augusto, the mayor of the hard-hit town of São Sebastião.
"We have not yet gauged the scale of the damage. We are trying to rescue the victims."
Mr. Augusto continued, stating that the situation remained "very grave," adding that the village had dozens of missing people and that roughly 50 homes had collapsed and been destroyed.
At least 35 deaths were claimed by the state administration in So Sebastio, while a little girl's death was reported by the mayor of Ubatuba, located about 80 kilometers (50 miles) to the northeast. Hundreds of people have been evacuated and displaced.
"Unfortunately, we are going to have many more deaths," a civil defense official told the newspaper Folha de São Paulo.
According to officials, 338 more individuals were evacuated from coastal locations north of So Paulo, leaving another 228 people without a place to live.
Six communities in the state—So Sebastio, Caraguatatuba, Ilhabela, Ubatuba, Guarujá, and Bertioga—were placed under a 180-day state of calamity.
Address by Governor
State Governor Tarcsio de Freitas declared that he has made funding for disaster relief of $1.5 million (£1.2 million) available.
Carnival activities were postponed along the northern coastline, a favourite destination for wealthy travelers trying to avoid the intense street celebrations in the major towns.
In the lead-up to the Christian festival of Lent, the event typically lasts for five days, and the vibrant celebrations are emblematic of Brazil.
Santos, the biggest port in Latin America, was also closed due to winds that were above 55 km/h (34 mph) and waves that were over 1 m high, according to local media.
The impacted areas would be visited on Monday, according to President Luiz Inácio Lula da Silva, who was spending the carnival weekend in the northeastern state of Bahia.
He expressed his sorrow to those who had lost loved ones in a tweet and pledged to coordinate with law enforcement to send out medical teams and rescue crews.
"We are going to bring together all levels of government and, with the solidarity of society, treat the wounded, look for the missing, restore highways, power connections and telecommunications in the region," Mr da Silva wrote.
Conditions for emergency workers could get considerably worse as more intense rain is predicted to fall in the area.
As the effects of climate change set in, extreme weather phenomena like floods are anticipated to grow more frequently.
More than 230 people were killed by severe rain in the southeast city of Petropolis last year.
credit:BBC news