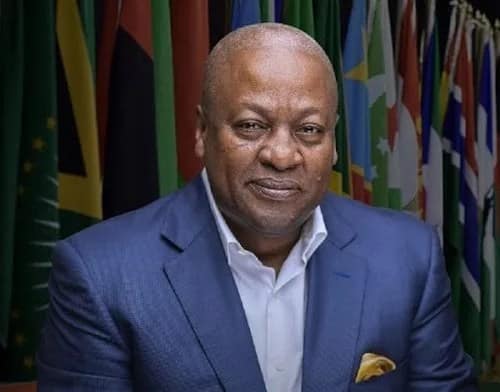 The West African Elders Forum Election Mediation Mission will travel to Nigeria for the 2023 general elections under the direction of former Ghanaian President John Mahama.
Mahama and his team are scheduled to arrive in Abuja on February 22, according to a statement sent by the Goodluck Jonathan Foundation's communications officer, Wealth Ominabo, in Abuja on Saturday.
Ominabo stated that the team was anticipated to be there for both the March 11 state elections and the February 25 presidential and national assembly elections.
He named the other team members as former presidents of the Gambia, Benin (Boni Yayi and Fatoumata Tambajang), and Goodluck Jonathan
Also in the team are former Burkinabe Prime Minister and president of the Economic Community of West African States Kadre Ouedraogo and former Deputy Head of the African Union, Dr Erastus Mwencha.
Ominabo said the GJF Executive Director and Coordinator of the WAEF Secretariat, Ann Iyonu, indicated that the purpose of the forum is to connect with key stakeholders and offer the necessary support that would ensure peaceful elections.
Iyonu noted that the leaders would be working with important stakeholders in the polls as well as the observer missions, to ensure a crisis-free process before, during, and after the elections.
"Unlike other observation missions, the forum has a special focus on election-related conflicts, and the Elders will be on the ground for a longer time.
"The forum made up of former Presidents and Heads of Government in West Africa will be interacting with the candidates, political parties and members, the citizens, the election umpire, observers, and other key stakeholders all the time.
"The leaders will be looking out for crisis triggers, with the mind of nipping them in the bud by offering mediatory roles and giving relevant advice to ensure peaceful polling, based on their personal experiences as former leaders of the sub-region.
"The leaders will also be calling for individual accountability by those who by their actions or inactions undermine the democratic process and endanger lives," Iyonu said.
Ominabo remembers that WAEF deployed a team lead by Jonathan for a similar engagement during the Gambian elections in December 2022.
He said that the WAEF team's presence in The Gambia and its mediation efforts, particularly after the polls, helped to ease tensions that endangered the fairness and success of the vote.
The WAEF team, he continued, would be in Abuja to witness the second signing of the National Peace Agreement by candidates for president and party leaders.