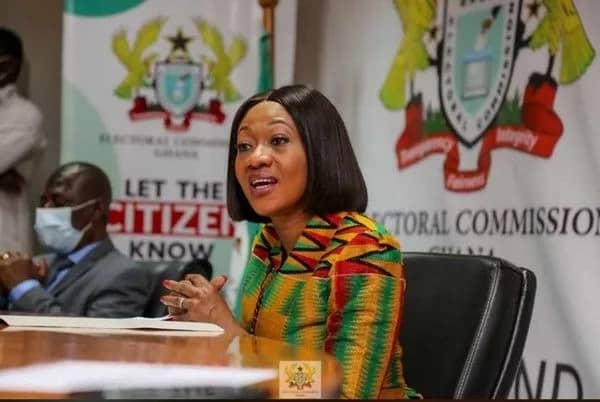 In order to be able to register for their voter's card, the chairperson of the Electoral Commission has urged Ghanaians to start the process of obtaining the Ghana Card.
She claims that getting these services won't be difficult because the NIA has registration centers scattered throughout the districts and the regional center.
She continued by advising Ghanaians who will turn 18 in 2023 or 2024 to get the card as they can get one at age 15.
"….Mr Speaker, with the NIA assurance that it will commence its card issuance in a matter of weeks, we encourage those who do not have the card to begin the process of acquiring the card to enable them register as voters. The NIA has its registration centers across the districts and the regional capitals. Therefore, accessing their facilities will not be a challenge.
"Additionally, since the card is acquired at the age of 15, we encourage any Ghanaian who will turn 18 in 2023 or 2024 and who is interested in voting in the country's elections to visit the nearest NIA registration centre and register for the Ghana card to enable him/her also register as a voter when he/she becomes eligible," she said.
Speaking to the Committee of the Whole during her appearance in parliament, Jean Mensa discussed the contentious proposed Constitutional Instrument that, if passed, would make the Ghana Card the only form of identity that could be used to guarantee citizenship.
In order to address various issues brought up by the members of the house, Alban Bagbin, the speaker of the house, called Jean Mensa to appear before the committee of the whole.