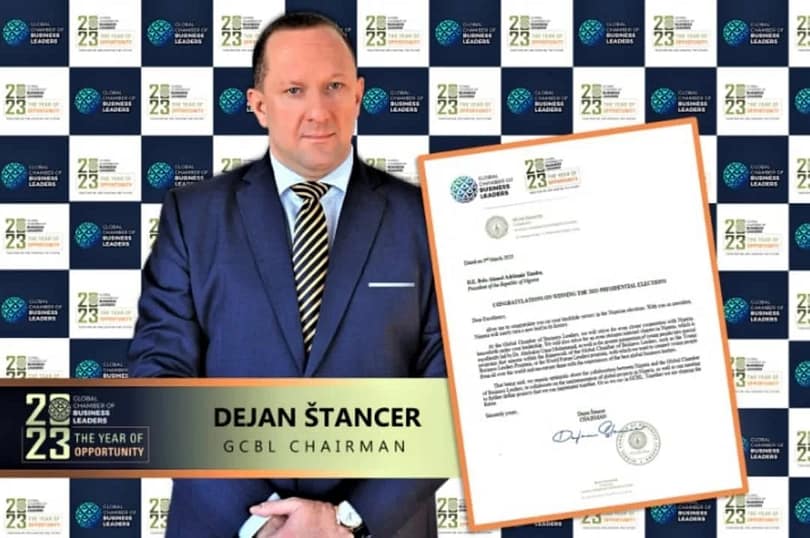 Bola Ahmed Adekunle Tinubu, a seasoned politician, has received congratulations from the Global Chamber of Business Leaders (GCBL), the largest association of CEOs and executives in the world, on his election as president of Nigeria.
An ex-governor of Lagos State, Mr. Tinubu, was elected president of Nigeria on the platform of the ruling All Progressives Congress on February 25, 2023. (APC). On May 29, 2023, he will succeed current President Muhammadu Buhari.
"Allow me to congratulate you on your landslide victory in the Nigerian elections.  With you as President, Nigeria will surely turn a new leaf in its history," GCBL  Chairman, Dejan Stancer told Mr. Tinubu in a letter dated March 3, 2023.
In the letter, Mr. Stancer pledges that the GCBL will work to forge an even stronger partnership with Nigeria under Mr. Tinubu's direction.
The GCBL Chairman assured Mr. Tinubu that the organization "will also strive for an even stronger national chapter in Nigeria, which is excellently led by Dr. Abubakar Muhammad, as well as for greater integration of young people into special programs that operate within the framework of the Global Chamber of Business Leaders, such as the Young Business Leaders Program or the World Future Leaders program, with which we want to connect young people from all over the world and enco[nnect] them to opportunities that exist in business and society."
Find the letter in full below:
About Global Chamber of Business Leaders
A coalition of business and industry leaders, CEOs and executives, entrepreneurs, investors, and representatives of governmental bodies make up the Global Chamber of Business Leaders. They are united by a common goal: to ensure the long-term success and expansion of their companies in a disruptive and constantly changing global economy.
The Sustainable Development Goals should be incorporated into future business models, according to the Global Chamber of Business Leaders, which prioritizes initiatives that are in line with the UN's Decade of Action. This enables our partners, members, and participants to set up their companies to be forerunners in their respective industries.
The GCBL supports a thriving and interconnected business community by fostering resiliency, growth, and market expansion in a forward-thinking corporate climate where cooperation stimulates growth, education improves ability and promotes opportunity, and advocacy impacts authority.
For more info on the Global Chamber of Business Leaders, visit: https://www.gc-bl.org/about-us, https://www.linkedin.com/company/leadership-conclave-the-heroes-we-deserve/