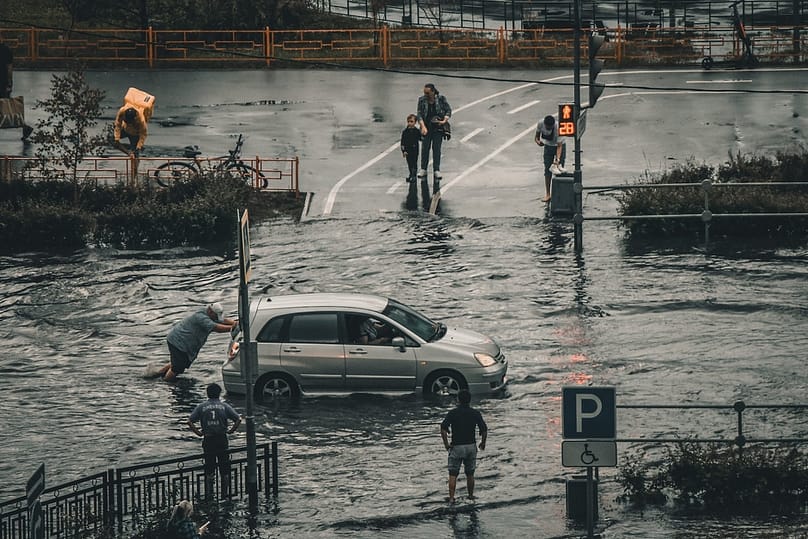 In addition to destroying homes worth thousands of cedis at Baba Dogo in Bortianor in the Ngleshie Amanfro constituency, Tuesday morning's torrential rain is claimed to have killed two youngsters.
Eyewitnesses said that the structure where the two kids and their mother were living fell, killing the kids.
As the mother attempted to bring his two children to safety, the two were carried away by the flood.
This is not the first time that people have died from flooding in the neighborhood, the chairman of the local landlord association told Citi News. He claims that the assembly has not succeeded in demolishing certain homes near waterways.
On Tuesday, March 7, 2023, Accra saw a three-hour downpour that caused certain areas of the city to flood.
Startling lightning and thunder that rumbled through the air occurred before the rains, which began at 3:40 in the morning.
Social media posts with images and videos highlighted how some pedestrians found it difficult to go to their destinations in cars since key roadways were flooded due to the downpour. In order to get to their destinations, drivers had to plan various routes.
Residents in the areas near the old Kasoa barrier, Weija, Dansoman, and Lapaz had difficulty navigating the water.
Due to the rain, some portions of the city, particularly Kasoa Old Barrier, did not have functioning street lights.
The Ghana Meteorological Service issued a press release prior to the rains informing the public that "Southeastern Ghana has been engulfed by a rain-bearing cloud. The Volta Area is seeing rain of varied intensities as a result of this.
Before spreading to the Central, Western, and certain Ashanti regions, the Greater Accra and Eastern regions will be affected. In some areas of Greater Accra, flash floods are anticipated to result from rain. Be informed appropriately.
credit:Citinewsroom