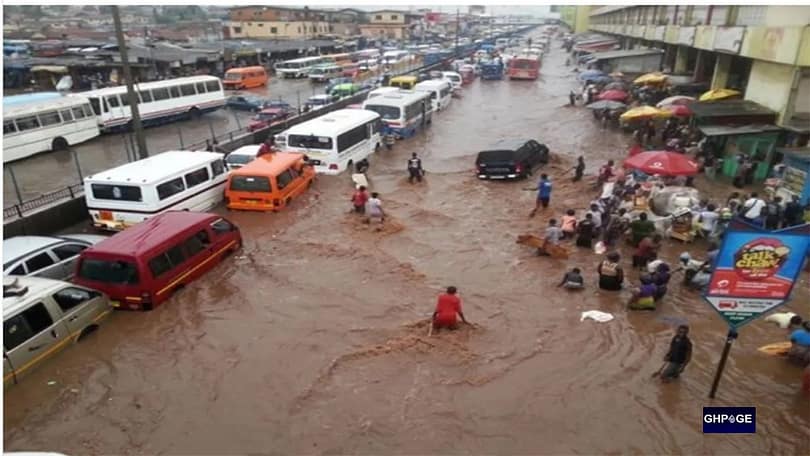 In Anloga Junction in Kumasi, some vehicles were submerged in flood waters, while scores more were left stranded after a downpour on March 8, 2023, a Wednesday evening.
Rains originally created flooding on the main Kumasi-Accra route from Anloga Junction to Adum, which then moved to the opposite side of the road.
Those in cars and onlookers were frustrated and unable to cross because they were afraid of drowning.
As a result, there was a lot of traffic on the stretch of road.
Several stranded commuters urged the appropriate authorities to immediately address the ongoing problem in interviews with Citi News.
"The whole place is flooded, look at it, we cannot even cross due to the traffic jam. We are stranded here, look at the taxi over there the driver cannot drive through the waters. Government needs to do something about this situation.
"I want to move to the other side of the road and board a car to Aboabo, but I'm trapped here. The government should put measures in place. When you talk about leadership they say you don't respect, but the MCE, DCE all of them will come and see this, but nothing will be done about it," one of the stranded pedestrians said.
Another said, "what's happening here now is even sad, because we have so many big men over here, DCE, KMA Boss, MCE, MPs and whatever. This has been happening for a very long time, and they are supposed to have solved it once and for all. People are stranded here and don't know how to get to their various homes unless they sleep here or return to where they are coming from.
"When you go abroad, there's a way the waters pass through. The big men travel outside the country, and they see all that. They get their votes during elections from Ashanti Region. After voting, they turn their backs on us. They are worrying us here, crossing is a problem for me, it's very bad," another pedestrian complained.
As a result of the rainfall, several areas of the New Kejetia Market were also submerged..
The post Kumasi: Vehicles submerged in flood waters at Anloga Junction appeared first on Citinewsroom – Comprehensive News in Ghana.