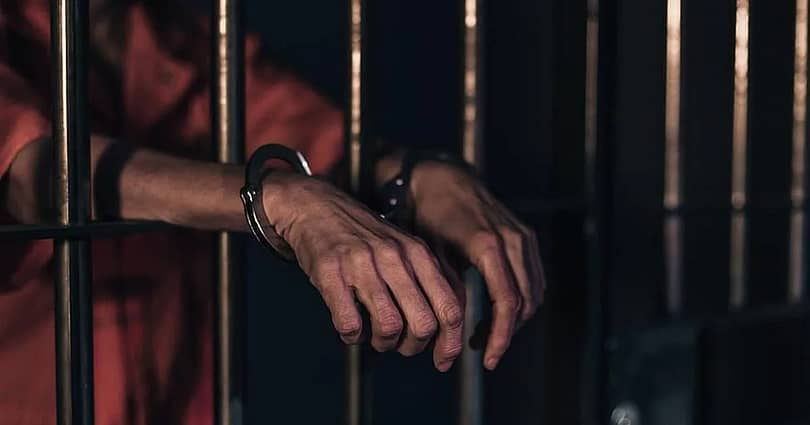 Effort Dankwa was given a 39-year prison term by the Accra High Court for attempted murder.
In August 2015, Effort Dankwa shot his expecting wife Benita Dankwa in their Tema Community 11 flat.
On the day of the shooting, Benita, who was seven months pregnant, gave birth to a baby boy via caesarean section later in the hospital.
She is still unable to move below her chest.
When charged with attempted murder, her husband, who was the only suspect in the incident, denied any wrongdoing and entered a not guilty plea.
Effort Dankwa was found guilty of attempted murder by a seven-person jury last Friday, March 10, 2023, bringing the case's seven-year journey to a close.
The prosecution's argument that the offense was serious and that the punishment should be harsh enough to dissuade men who harbor such malice against their spouses was accepted by Justice Mary M. E. Yanzuh, who handed down the sentence.
As a first-time offender who merited a second opportunity, the accused, according to the accused's attorney Winston Hayford, had already appealed for mitigation.
Mr. Hayford referred to Moses, David, and Paul in the Bible while asserting that Effort Dankwa was a teacher who served society well. Thus, he begged the court to be compassionate to him.
On the other side, the prosecution pleaded with the judge to impose a punishment severe enough to dissuade others. A state attorney testified before the court that Effort Dankwa's harm to his wife was irreparable and that, rather than the other way around, her parents were now caring for her.
The offense was a first-degree crime, according to Justice Mary Yanzuh, and the penalty may be anything from life in prison to a shorter term. Although the court might sentence, she insisted that it must do so in a "fair" manner.
She claimed that she considered a variety of circumstances, such as the fact that the defendant was a first-time offender, before deciding on the punishment.
She claimed that she also took into account the accused's claim that he did not own a gun, proving that the crime was premeditated.
She continued by saying that Effort Dankwa showed no concern for the "innocent unborn child" since he shot his seven-month pregnant wife. The victim had lost her ability to pass urine and empty her bowels, thus she also claimed to have considered the severity of the harm done to her.
Benita Dankwa's parents, who were present in court to hear the sentence, agreed that it was sufficiently deterrent.
Effort Dankwa was found guilty of attempted murder by a seven-member jury on Friday, and Benita's parents expressed their happiness that their daughter had finally received justice.
"It is not the number of years he is going to spend in prison that matters to me, but the fact that he has been proven guilty is my main interest. I am satisfied and okay with the court," her father, Seth O.S. Yirenkyi, told The Fourth Estate.
Her mother, Mrs. Agnes Yirenkyi, said she felt relieved. "My heart is at peace and comforted by God's word that patience begot victory. Jehovah is a lover of justice. If, after all these years, they have investigated and found that he is guilty, then that is God's verdict. It isn't that I am happy nor sad. My daughter is forever incapacitated, but the truth has been unveiled," she said.
More than seven years had passed when Effort, who was 36 at the time, was apprehended after police identified him as the main suspect in an assault on his wife, Benita Dankwa, who was 29 at the time. 29.
Credit:Citinewsroom .