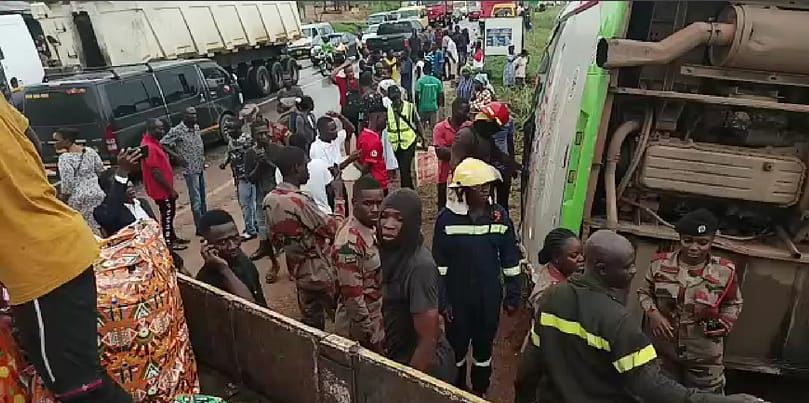 25 passengers sustained minor injuries after an STC bus with registration number GB 107-09 hit the back of a tipper truck with registration GW 7932-22 after losing control of the bus resulting in both vehicles veering off the road and entering into a ditch by the roadside.
The accident happened at Gomoa Buduaatta junction on the Accra Cape Coast highway today, Monday, April 17, 2023.
Police and fire officers arrived on the scene to help rescue persons who were trapped in the STC bus.
The driver of the tipper truck, Kwabena Tawiah told the media the driver of the STC bus lost control of the bus and hit the tip of his truck resulting in the accident.
"I was fully loaded and heading in the Accra direction then all I saw was the driver of the STC bus struggling to control the bus, and he suddenly hit me by the side. Some persons on the bus sustained injuries but no one died. He was speeding, so it was difficult for him to control the wheels. There was a sharp curve and that deceived him."
The post STC bus involved in accident on Accra-Cape Coast Highway appeared first on Citinewsroom – Comprehensive News in Ghana.